Promultis bespoke multi touch table solutions
Custom design and fabricated touch tables
02392 512 794
Int. +44 (0) 2392 512 794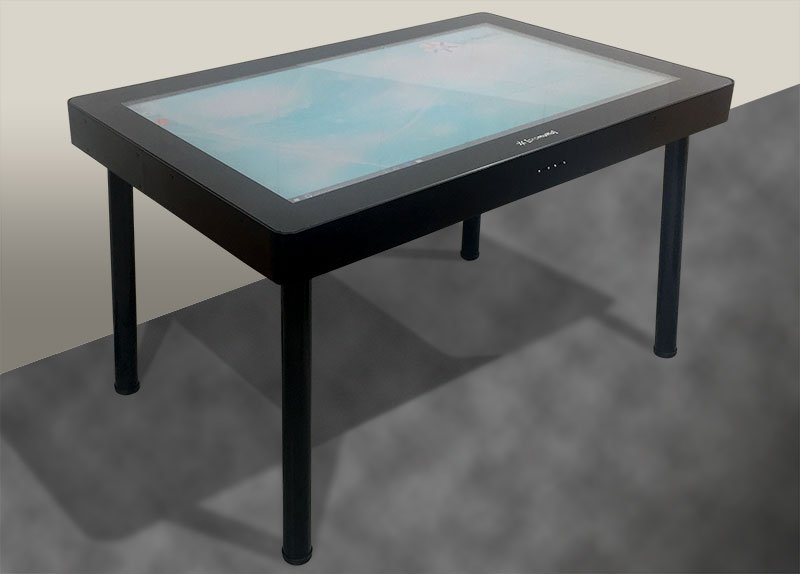 Portable, projected capacative touch screen table with detachable legs for easy transport. This bespoke table was built for collaborative experiences with all round access to the touch screen.
Promultis has the experience and expertise to create bespoke and innovative designs utilising the latest touch screen technologies.
Providing a unique and personal service Promultis ensures that you receive a multi touch hardware and software solution that meets your exact specification and requirement.
Our team of highly skilled hardware and software designers, engineers and fabricators can create virtually anything you require, any shape or screen size, colour or finish.
Promultis have the expertise to build touch tables in any material such as Corian, wood, aluminium, steel, etc.
The bespoke table incorporates a 1080p HD or 4K UHD LCD screen and projective capacitive touch technology with 100 simultaneous touch points.
In addition, Promultis can supply a fully branded and bespoke, interactive software solution for the table from wayfinding, digital signage, corporate or retail presentation plus games and puzzles.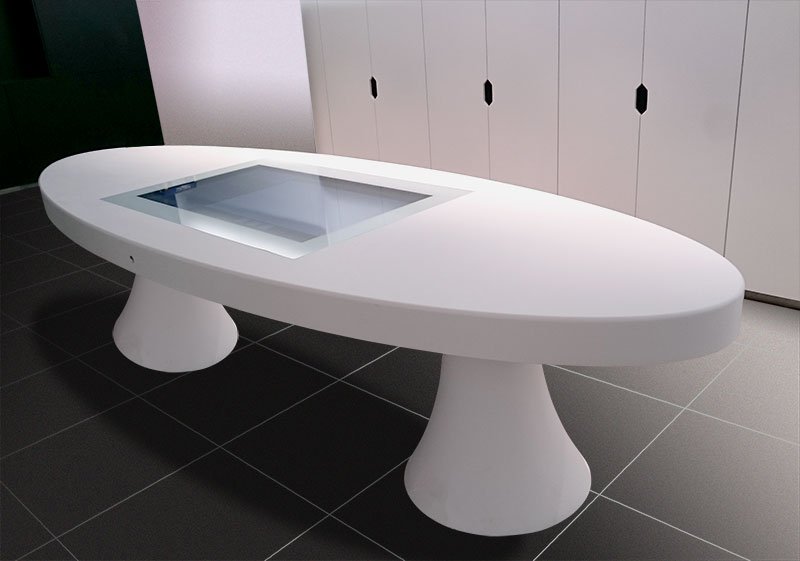 From a simple line drawing our designers produced this sleek bespoke design made in Corian installed in the boardroom at Rolls Royce
Ten fully custom designed and built Promultis height adjustable 65″ tables for the University of Exeter
Promultis custom designed and built ten 65" multi touch tables featuring remote controlled height adjustability. With their unique "butterfly" shaped surface, the tables have been designed specifically to encourage group-based work and collaboration.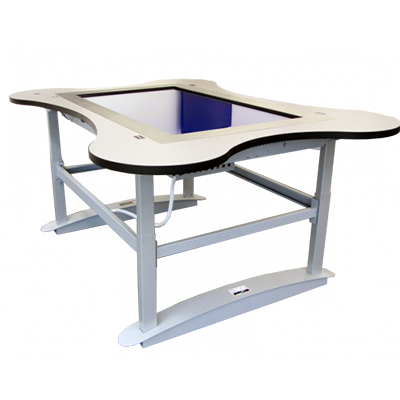 These tables are interconnected via cutting edge custom software, which enables work to be passed between tables via an intuitive and unique colour coded system. Each table has a different coloured surround, within the desktop interface is a ring for each of the available colours. Information and work can be simply dragged and dropped into the coloured ring, which will then appear on the corresponding table.
Galliard Homes HQ reception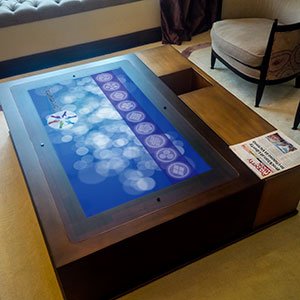 A custom-built coffee table with a Promultis touch screen installed in companies headquarters reception.
Fingal County Council Atrium.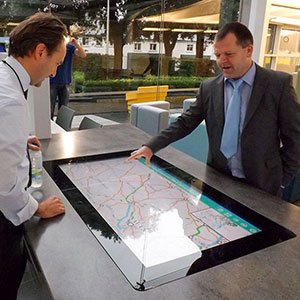 A large Promultis touch screen integrated into a large granite work station in large County Council atrium.