Promultis Interactive Insert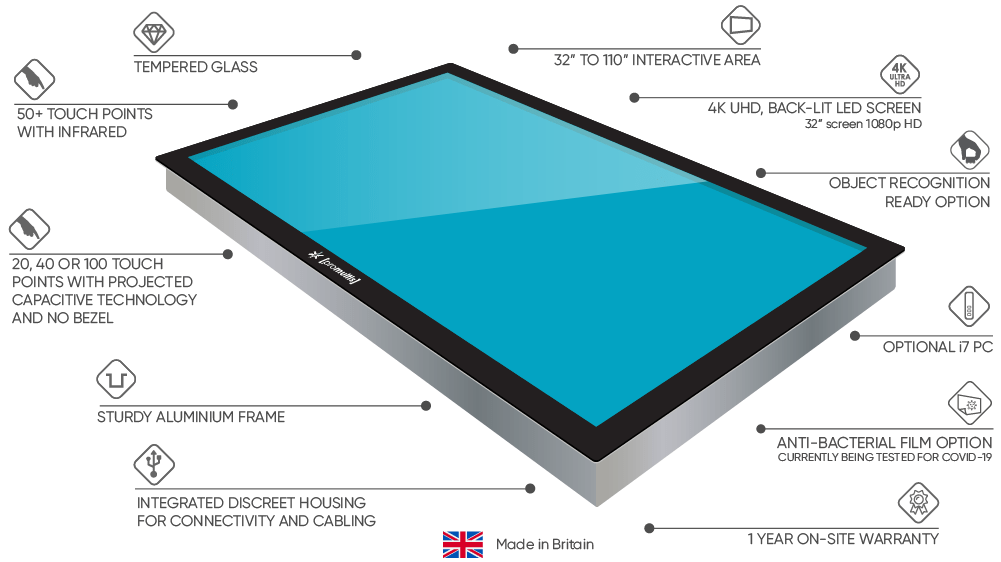 The Insert is the ultimate all in one touch solution able to be built into existing or custom-made furniture and enclosures in either portrait or landscape. 
Available screen sizes range from 32" up to 110" in both 1080p HD and 4k UHD. 
32" to 86" Interactive Area
Available screen sizes range from 32″ to 110″, inviting collaboration and teamwork. With up to 100 touches using Projected Capacitive touch technology, a multi-user experience has never been easier to achieve.
1080p HD or 4k UHD LED SCREEN
The 32″ 1080p HD Screen delivers great viewing performance. Every size above 32″ uses a 4k UHD screen, giving you unparalleled vibrancy and crisp picture. 
Object Recognition Ready
Create a more hands-on experience for users by triggering events on-screen by placing real, physical items on the screen surface. 
1 year warranty
Our 1 year remote and onsite warranty means that we will strive to solve any issues that may arise, either over the phone or with an engineer visit if required.