Promultis Interactive Table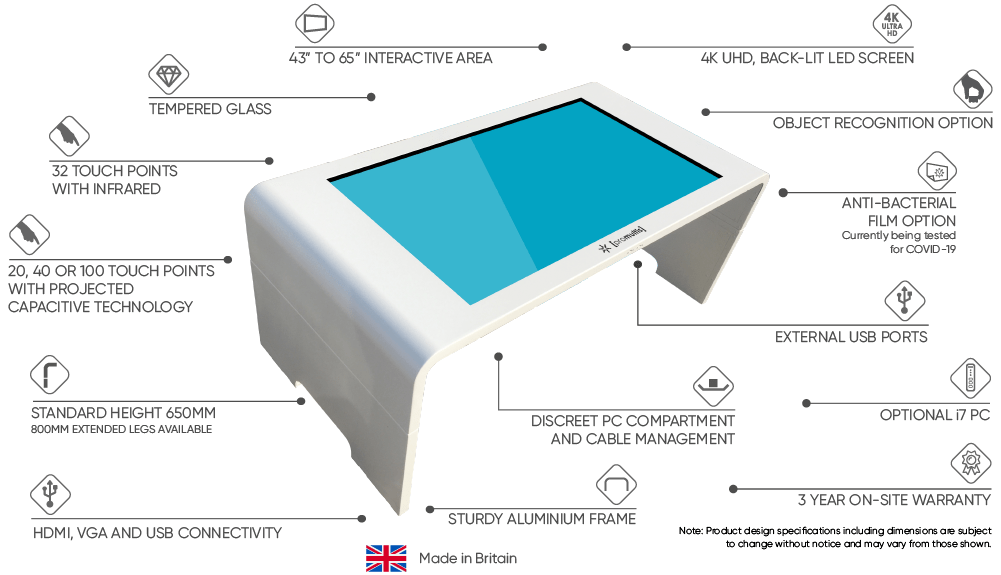 The Promultis Table is a versatile unit utilising the latest 4k screens ranging from 43" up to 65" in both Projected Capacitive touch, allowing up to 100 touches and Infrared touch, allowing up to 32 touches.
Its neutral, coffee table design lends itself to use in foyers, receptions, meeting rooms, and marketing suites
The table is driven by our small form factor Intel NUCs from a secure PC compartment or alternatively connect your own PC, laptop or other device if necessary
Available in Crisp White or Slate Grey. In addition, the table can be vinyl wrapped with graphics of your choosing.
43" to 65" Interactive Area
Available screen sizes range from 43″ to 65″, inviting collaboration and teamwork. with up to 100 touches using Projected Capacitive touch technology, a multi-user experience has never been easier to achieve.
4k UHD LED SCREEN
The 4k UHD back-lit LED screen delivers a bright and responsive viewing experience.
Extendable leg options
If the standard height of 600mm doesn't work for you we can simply swap out the legs for our taller 800mm variants, giving increased legroom and overall height.
3 year warranty
Our 3-year repair and replacement warranty with remote hardware support means that we will try to solve any issues remotely before organising a hardware replacement if needed.
Discreet PC and cable management
The small form factor Intel NUC sits neatly in a discreet PC compartment along with the cabling, creating a clean and tidy aesthetic while also providing security.
OBJECT RECOGNITION READY
Create a more hands-on experience for users by triggering events on-screen by placing real, physical items on the screen surface. 
Optional i7 OPS PC
If a Windows OS is required, our optional i7 slot-in PC's come with the latest Windows 10 OS giving you full access to all of its features.