Promultis Lucient Dual Outdoor Totem
Dual Side Display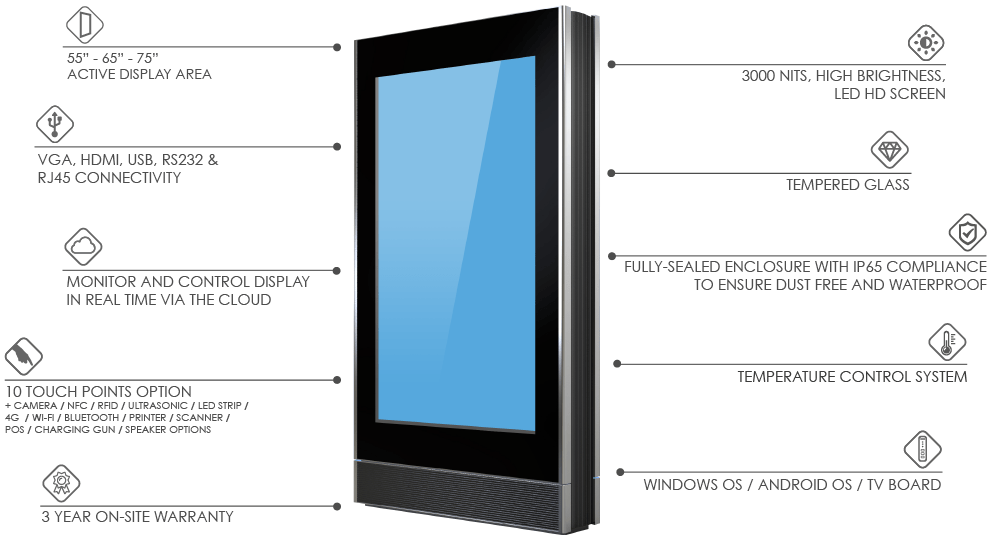 The free standing, 
Promultis
 Lucient Dual Outdoor Totem has a weather-proof IP65 rated steel housing to ensure dust and water- free enclosure along with laminated tempered glass.
24/7 CLOUD BASED SURVEILLANCE SYSTEM
The double sided 3000 NITS high brightness LED screens are available at 55″ HD, 65″ 4K, and 75″ HD. This ensures content is visible in all situations and conditions. 
The interactive option has 10 touch points with Projected Capacitive Technology. Additional options include Camera, NFC, RFID, Printers, etc.
These Outdoor Totems are perfect for use as outdoor digital signage or as wayfinding/information hubs in public areas. The totem can also be used as a self service photobooth with the additional camera and printer options. The unit can be bolted down to ensure it can't be tipped over or moved. 
We can also apply custom vinyls to the casing to promote your company or branding! 
Weather-proof IP rated steel enclosure
Our Outdoor Totems are protected against wind, rain and snow with secure rubber sealing and a strong steel frame.
temperature & humidity control system
The built-in temperature and humidity control system ensures the totem remains operational in both hot and cold weather.
Cloud based surveillance system
The built in monitoring connects to 4g or wifi and checks the following: Air conditioning status, Fan status, Door open alarm, Flood and smoke alarm, Impact alarm, Non-working voltage alarm and Screen display error alarm. 
Alerts are automatically emailed to system admins.
3 year on-site warranty
Our 3 year on-site warranty means that we will strive to solve any issues that may arise, either over the phone or with an engineer visit if required.
3000 NITS HD or 4K Screens
Choose from HD 55″ screens, 4K 65″ screens, or HD 75″ screens. The 3000 NITS high brightness panel ensures visibility no matter your choice.
SECURE STORAGE
The entire system is locked behind a tamper proof door to keep the vital components safe and operational.
optional extra features
Options include 10 Touch Interactivity, Webcam, NFC, 4G and WiFi, Bluetooth, Printer/Scanner, PoS systems, and Speaker options.