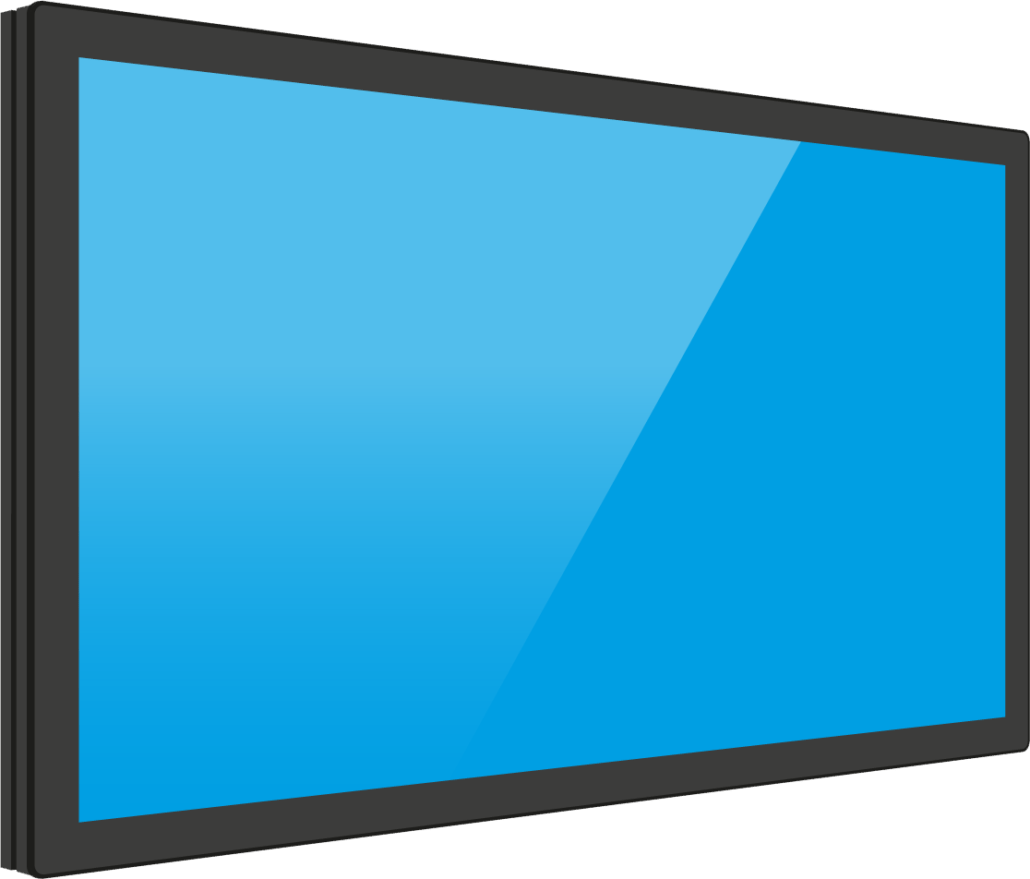 Offering up to 4K UHD, the picture quality is excellent and the touch response is superb.
10 PCAP Touch Points
Integrated Webcam
Wall Bracket Included
HDMI & USB Connectivity
Integrated Android 9/ Android 11 on 55″ Screen
3 Year Repair or Replace warranty
antibacterial film option
32″|43″|55″ screen sizes available
10 Touch PCAP
Features Projected Capacitive technology for a flat surface. No bezels around the screen.
Built-in Android 9 and Android 11
The Promultis Electra Touchscreens have built-in Android 9 Operating System up to 43″ and Android 11 on the 55″. Run a huge range of compatible apps, browse the web, and view videos.
Integrated Web-cam
The integrated webcam means there is possibilities for targeted advertising, as the webcam could pick up different traits of people who walk past it and display optimised content to them.
Built-in Whiteboard Software
Turn the Electra into a whiteboard with built-in UBoardMate Whiteboard Software.
Built-in Wi-Fi/LAN
The Electra touchscreens come with built in Wi-Fi and LAN connectivity.
Portrait or Landscape
The Electra can be used in portrait or landscape orientation.
Slim and Lightweight Design
The Electra's slim and lightweight design means that it is easy to install and looks sleek and stylish.
3 Year Warranty
Our 3-year repair and replacement warranty with remote hardware support means we'll try and solve any issues remotely before organising a hardware replacement.
Discover the Promultis Electra Touchscreens, a touchscreen solution designed to elevate your interactive experiences.
These cutting-edge touchscreens offer 10 PCAP touch points, ensuring seamless and responsive interactions. With integrated webcams, HDMI and USB connectivity, and integrated Android 9, you have everything you need for versatile functionality. The included wall bracket simplifies installation, and you can choose from screen sizes of 32″, 43″, or 55″ to suit your space. Plus, for added peace of mind, these touchscreens come with a 3-year repair or replace warranty.
YOU MAY ALSO BE INTERESTED IN…

Do you need a Bespoke Software Solution?
At Promultis, we can develop bespoke interactive and non-interactive software solutions for the Electra Touchscreen, making your visions into reality.
If you are interested in bespoke software for the Electra Touchscreen and would like to look at our previous work, visit our IMMERSE page by clicking on the button below.