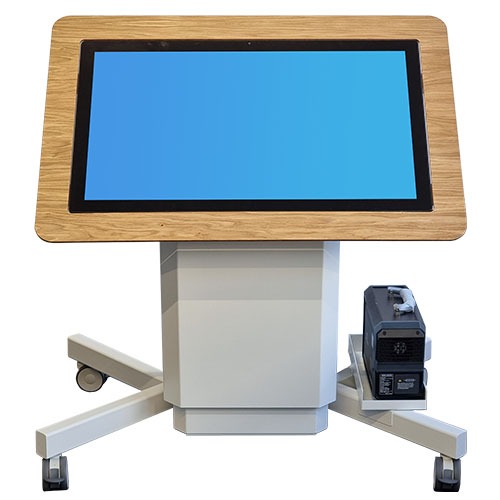 The Varitilt Standard Plus COMES WITH ALL THESE GREAT FEATURES!
32 – 43″ Interactive Screen

Optional i7 PC

Tempered Glass

Electronic Height Adjustment

Internal Speakers

Optional Battery Unit

HDMI & USB Connectivity

Integrated Camera

10 PCAP Touch Points

Electronic Tilt Adjustment

Integrated Android 9

3 Year On Site Warranty
Portable
With lockable castor wheels, the Varitilt Standard Plus can be moved around your space with ease. When paired with the optional battery upgrade, you don't even need to worry about a power outlet.
Electric Height & Tilt Adjustment
Electronic height and tilt adjustment allows the table to be used in a sitting or standing position, use the screen as a table, screen or lectern.
Optional Battery Unit
Do away with the mains power lead, removing a tripping hazard and providing complete freedom of movement. Usable for up to 8 hours between charges.
Optional Windows PC
Having a Windows PC gives access to a huge library of interactive multiplayer games, online resources and applications.
The Varitilt Standard Plus
The Varitilt Standard Plus is a mobile interactive table suited to a wide variety of situations. This table is perfect for multi-user environments due to electrical height and tilt adjustment, allowing each user to perfectly adapt the screen position to suit their needs. The Varitilt Standard Plus also has 10 touch points, allowing multiple users to interact with the device at exactly the same time.
The built in lockable castor wheels allows the table to be easily moved around you space, and when paired with the optional battery upgrade, the Varitilt Standard Plus becomes incredibly portable, eliminating the need to even worry about a power socket.
The Varitilt Standard Plus is perfect for the care home industry as it gives residents access to interactive sensory tools and brain training activities using the built in Android system. The table also allows the residents to easily connect with family members over video calls due to the integrated camera and speakers. To learn more about our tables for the care home sector, visit here.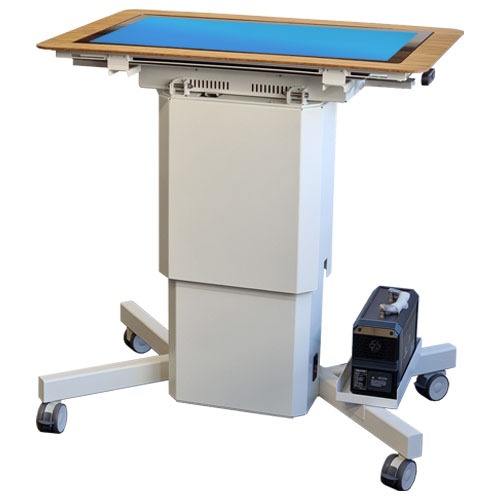 YOU MAY ALSO BE INTERESTED IN…

Do you need a Bespoke Software Solution?
At Promultis, we can develop bespoke interactive and non-interactive software solutions for the Varitilt Standard Plus, making your visions into reality.
If you would like to have a look at our previous work, visit our Immerse website by clicking on the button below.