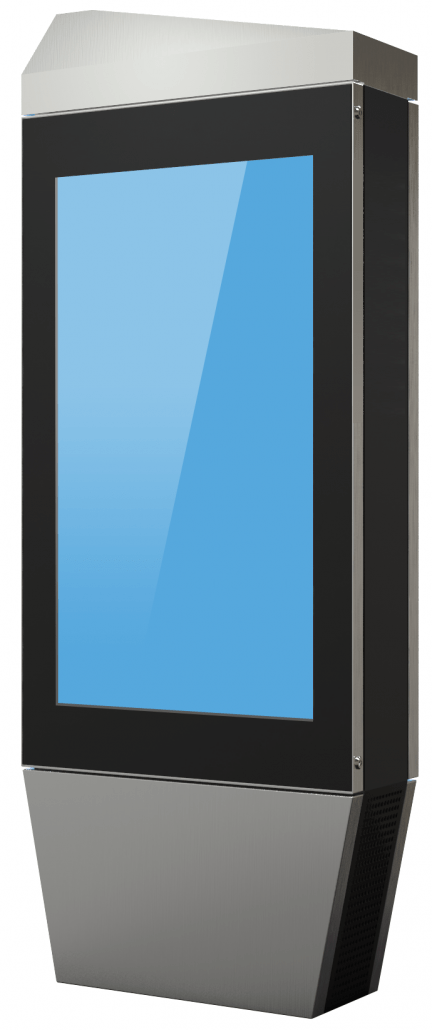 Sleek, Stylish Double-sided Floor Displays
55" & 65" active display area
VGA, HDMI, USB, RS232 & RJ45 connectivity
monitor and control display in real time via the cloud
3 year on-site warranty
3000 nits, high brightness, LED HD screen
laminated tempered glass
fully-sealed enclosure with IP55 compliance to ensure dust free and waterproof
temperature & humidity control system

windows OS / android OS / TV board
10 touch points option ( +Camera / NFC / RFID / Ultrasonic / LED Strip / 4G / Wi-Fi / Bluetooth / Printer / Scanner / POS / Charging Gun / Speaker Options )
Weather-Proof IP Rated Steel Enclosure
Protected against wind, rain and snow with secure rubber sealing and a strong steel frame.
Cloud based surveillance system
Built in monitoring connects to 4G or Wi-Fi and checks the following, automatically emailing it to system admins: Air conditioning status, Fan status, door open alarm, flood and smoke alarm, impact alarm, non-working voltage alarm and screen display error alarm
Temperature & Humidity Control System
The built-in temperature control system ensures the Totem remains operational in both hot and cold weather.
3000 NITS HD or 4K Screens
Choose between two HD 55″ screens or 4K 65″ screens. The 3000 NITS high brightness panel ensures visibility no matter your choice.
Powered by OPS, Android or your own machine
Use an internal small form factor OPS running the latest Windows 10 to deliver content to the screen. Or use the built in Android to run simple, lightweight programs.
Secure Storage
The entire system is locked behind a tamper proof door to keep the vital components safe and operational.
YOU MAY ALSO BE INTERESTED IN…

Do you need a Bespoke Software Solution?
At Promultis, we can develop bespoke interactive and non-interactive software solutions for the Geminus Totem, making your visions into reality.
If you are interested in bespoke software for the Geminus Totem and would like to look at our previous work, visit our IMMERSE page by clicking on the button below.