"Promultis has fabricated a beautiful and seamless interactive table with object recognition for our client National Grid. Their expertise and availability has made the production process smooth and efficient leading to a successful launch event at COP26 in Glasgow. Promultis has also helped us tour the National Grid interactive table to various international events such as WindEurope and the UK Embassy in Oslo for the Queen's Elizabeth Jubilee celebrations. We cannot wait for the next joint adventure!"
Manuela Mesrie
Senior Producer, UNIT9
"We knew we wanted to have a good mixture of direct and indirect engagement with delegates for our upcoming in-person events, especially as people emerge from the digital events scene. Promultis presented and executed two great solutions that catered for a range of different user journeys, including games, app demos and lead capture. Not only was the turnaround impressive, but the overall process from designing the platform to onsite support was excellent."
Adam Smith
Marketing Manager, Zellis
inamo covent garden & soho
"We've very much enjoyed working with the Promultis team to enhance inamo's unique projection based interactive restaurant experience with touch sensitive tables and a suite of new games. The upgraded technology has been very well received by our guests, and Promultis have been helpful & responsive throughout."
Noel Hunwick
Marketing Director & Co-Founder, Compurants Ltd, TA inamo restaurants & inamo sukoshi
a-mac environmental & plymovent
"We had an outstanding experience with Promultis Ltd and would like to share my positive feedback. Promultis Ltd in particular Luke, truly exceeded my expectations in every aspect of their service. First and foremost, their customer service is exceptional. From the initial contact to the delivery of the interactive kiosk, the team at Promultis Ltd was attentive, responsive, and always willing to go the extra mile to ensure our needs were met. They were patient in addressing all our questions and concerns, demonstrating a high level of professionalism and expertise throughout our interactions. Moreover, the quality of the software on the kiosk is top-notch. The technology and solutions provided by Promultis Ltd are cutting-edge, and they clearly prioritize innovation and excellence. The design of the software was easy to use and was proven to be reliable and efficient, contributing significantly to the success of our stand at the OE Expo 2023. In conclusion, I highly recommend Promultis Ltd to anyone seeking high-quality technology solutions and outstanding customer service. They are a company that truly values their customers and give you exactly what you ask. I am extremely satisfied with my experience and look forward to continuing to do business with them in the future. Thank you, Promultis Ltd, for your exceptional service and exceptional soft and hardware provided."
Nathalie Nobee-Marshall
Business Development Executive, a-mac Environmental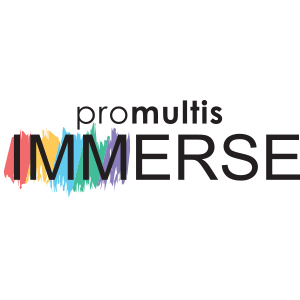 Do you need a Bespoke Software Solution?
At Promultis, we can develop bespoke interactive and non-interactive software solutions for the UNO 2, making your visions into reality.
If you would like to have a look at our previous work, visit our Immerse website by clicking on the button below.