Promultis are one of the markets leading video wall experts. Whether you want to buy or rent, we have the knowledge and tools to make your experience swift and easy.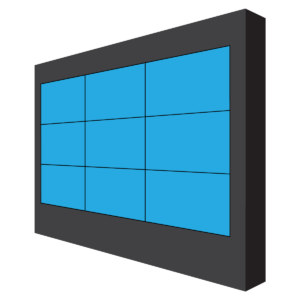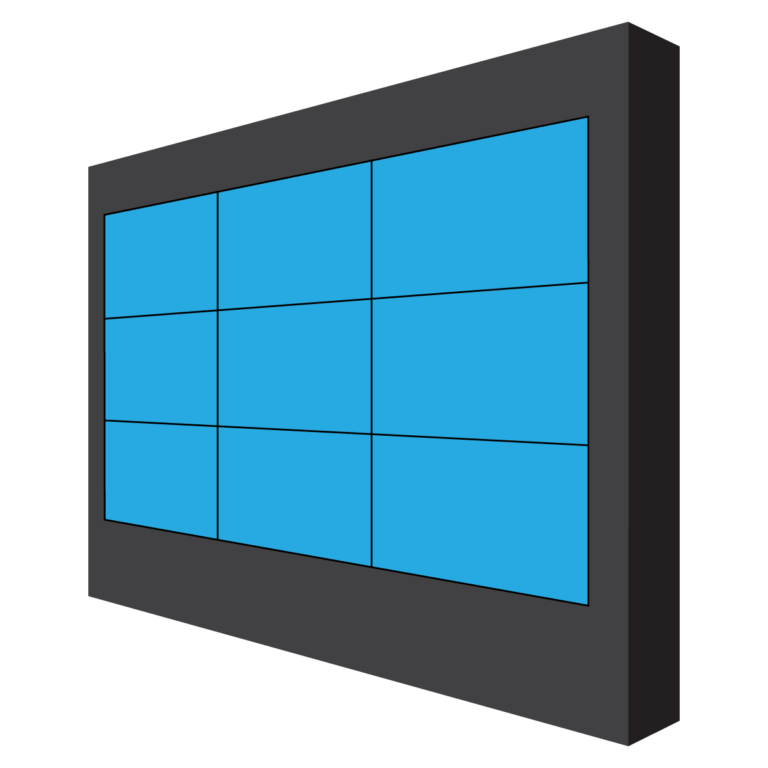 LCD Video wall
Promultis stand out as a market leader in the video wall industry. Whether you're looking to make a purchase or a rental, our expertise and advanced tools are at your disposal, ensuring a seamless and effortless experience for you.
Experience a realm of limitless possibilities with our array of customization features. Choose between portrait or landscape orientations, delve into interactive or non-interactive functionalities, and opt for infrared or projected capacitive technologies. Whether it's free-standing elegance or wall-mounted sleekness you desire, our options cater to your preferences. Unlock advanced capabilities like object recognition, motion sensors, RFID, QR codes, and voice recognition, all complemented by webcam and sensor choices. And with the stunning canvas of up to 8k resolution, each video wall emerges as a unique masterpiece, defying replication.
LED Video Walls
Experience impeccable visual quality from any angle or distance with Promultis LED Video Walls, featuring pixel pitches as fine as 1.953mm. Tailoring to your needs, our LED walls come with diverse media player and control choices. Embracing versatility, we offer LED walls in various shapes, sizes, and mounting styles to match your installation or event vision. Elevate engagement with interactive touch, gesture, and near-field triggered LED walls and floors. Choose Promultis for over two decades of video wall expertise encompassing hardware, software design, manufacturing, installation, and support. Enjoy the flexibility of permanent or rental solutions, along with indoor and outdoor installations catering to your serviceability preferences. Achieve your desired resolution, whether HD or 4K, with our selection of pixel pitches.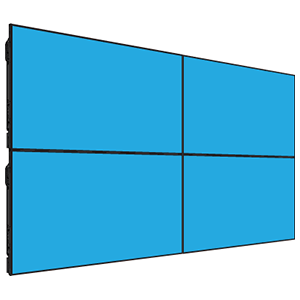 55″ BLOX Panel
Embark on an almost seamless single display journey with our advanced screens boasting an incredibly slim 6mm total bezel dimension. Craft video walls of various sizes effortlessly, utilising the consistent bezel structure. Embrace flexibility through Portrait or Landscape setups using our BLOX Panels, allowing diverse framing for distinctive video wall compositions. Elevate engagement with custom solutions curated by our IMMERSE Software experts, providing all-inclusive bespoke interactive encounters. Explore the ultimate display innovation with us.
YOU MAY ALSO BE INTERESTED IN…
What is a Video Wall?
A Video wall is a collection of screens or panels that are placed together to make a larger display. Where the biggest size of a single screen is about 110″, a video wall can be made to any size. ie 500″
What are the differences between a lcd and an led video wall?
LCD video walls are made up from the same technology as your standard tv screen. The screens are generally 49″ or 55″. These screens will have a bezel around them, and the thickness of this bezel will usually determin the price. The smaller or thinner the bezel, the more expensive the screen is. This type of video wall is excellent for close up viewing, and we use this type of video wall screen when we configure our interactive touch screen options.
LED video walls are made from small blocks of LED's (tiles) and do not have a bezel. They are really good for video walls that are viewed from a little distance, as when you are very close to one of these walls you can make out the individual dots that make up the tile. This type of video wall is priced by the viewing range. If you want people to be able to see the image close up then there is a premium price. Generally a P10 (you can see a decent image from 10 meters away) would be much cheaper than a P1.8 (you can see an image from 1.8 meters away). Howevfer, if you go closer than 1.8m then you would be able to see the dots that make up the picture. LED video walls are generally much brighter and higher contrast than the LCD option. They also offer better viewing angles.
What Video Wall Solution Should I Buy?
This is where Promultis experts can help. Generally, if you need an indoor video wall that people will be viewing very close to, then you would buy an LCD video wall. The screens can be mounted either vertically or horizontally, and we can generally get just the right amount of screens to match your given area. Again, if you need an interactive touch video wall solution, then you would buy a LCD Video Wall because you need to be very close to the wall to touch it. We offer LCD video walls for both sale and hire. You can view our range of interactive video wall screens here.
If you need a video wall that will be viewed from a distance greater than 2 meters then we would generally recommend a LED video wall. We can make these interative using gesture based technology. LED Video Wall technology is also very good for outdoor use as it is very bright and has a high contrast. We can supply waterproof outdoor LED Video wall solutions. Our LED video wall range can be viewed here
We offer both LED and LCD video walls for purchase and renting. (Indoor only).