The Tablet Kiosk is a lightweight and portable interactive solution
Built-in battery housing
Custom-wrapping available
fully wireless
Super AMOLED Display
2960px x 1848px WQXGA+ Resolution
Octa-Core CPU
lightweight
easily accessible
easily portable

Lightweight & Portable
The Tablet Kiosk is lightweight meaning it can be transported and moved around easily. 
Custom Wrapping Available
Show off your company's branding with a custom wrap.
Built-in Battery Housing
The built in battery housing in the base eliminates the risk of the tablets running out of battery. 
Completely Wireless
Because of the built-in battery housing, the Tablet Kiosk is fully wireless, further enhancing the portability of them.
Why not wrap the Tablet Kiosk with your own branding?
Embrace the opportunity to make the Tablet Kiosk truly your own by wrapping it with your companies distinctive branding. Elevate your brand presence and create a cohesive visual identity by showcasing your logo, colours, and designs on the Totem Kiosk. By personalising the exterior, you can seamlessly integrate the kiosk into your business environment, whether it's a retail space, exhibition, or corporate setting. Let your brand shine and leave a lasting impression on customers and visitors with a Totem Kiosk wrapped in your unique branding, reflecting the essence of your company's identity.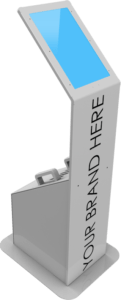 YOU MAY ALSO BE INTERESTED IN…

Do you need a Bespoke Software Solution?
At Promultis, we can develop bespoke interactive and non-interactive software solutions for the Varitilt Standard Plus, making your visions into reality.
If you would like to have a look at our previous work, visit our Immerse website by clicking on the button below.