Promultis Tetra Table Elite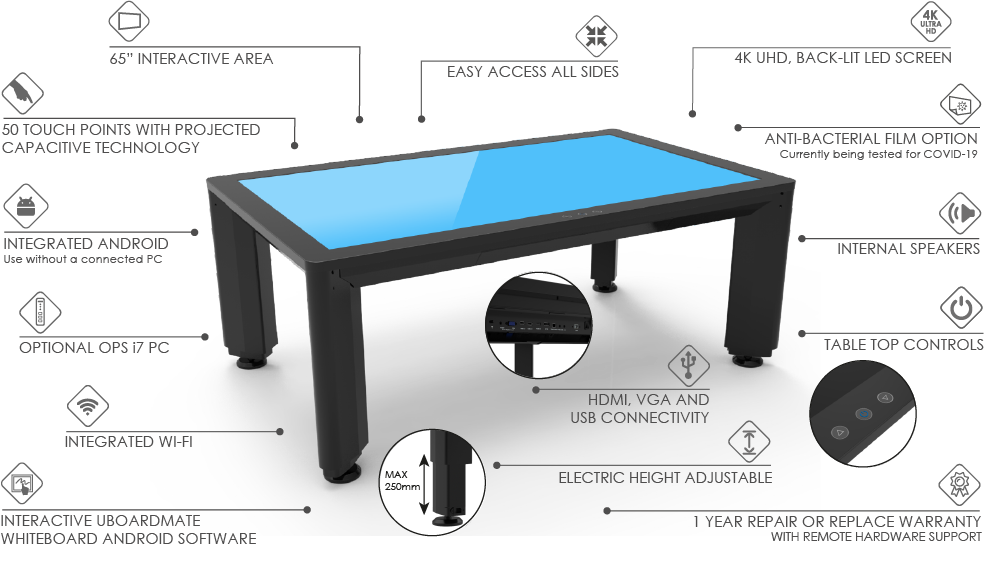 The Promultis Tetra Elite is a fixed, four-legged, 65" 4K electrically height-adjustable 50 Touch point projected capacitive collaborative interactive table.
Its sexy and sleek design and high specification mean it will fit into literally every type of environment whether being used in a reception area, as an interactive games table, in a marketing or sales suite, or in a meeting room.
Driven by an android backend, you can install apps from the play store or add the optional windows i7 OPS PC which slots neatly inside the table or use your own PC, laptop, or another device to drive it too.
65" Interactive Area
The 65″ interactive area invites natural collaboration and teamwork. With up to 50 touch points at any one time, a multi-user experience has never been easier to achieve.
4k UHD LED SCREEN
The 4K UHD back-lit LED screen delivers a bright, crisp, and responsive viewing experience
Electric height adjust
Effortlessly adjust the height of the table using the table-top touch controls, allowing the table to be used sitting or standing and by adults and children alike. Lock the controls at any time to prevent tampering. 
1 year warranty
Our 3-year repair and replacement warranty with remote hardware support means that we will try to solve any issues remotely before organising a hardware replacement if needed.
integrated wi-fi
The 65inch, 4K UHD screen offers up to 50 touch points. Complete with Android Operating System, the system is completely plug and play with no drivers necessary for interaction. By touching the home button on the front of the screen, you can directly access the Android home page for complete ease of use.
tabletop controls
The touch powered tabletop controls allow you to raise and lower the table height, as well as access the integrated Android and switch the table off. Disable the buttons at any time to prevent tampering.
integrated android
The built-in Android 5.0.1 OS allows you to run a huge range of compatible apps, browse the web, and view imagery and video. Open access to the Play Store to download any app and tailor your very own experience.
optional i7 OPS PC
If a Windows OS is required, our optional i7 slot-in PC's come with the latest Windows 10 OS giving you full access to all of its features.