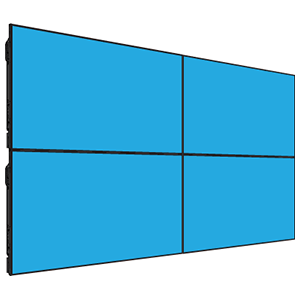 BLOX INTERACTIVE VIDEO WALL PANEL
All-in-one, 55″ Projected Capacitive, 100 touch video wall panel with slim 8mm bezel. 
All-in-one panel
6mm slim bezel
landscape or portrait orientation
curved video wall option
Multiple configurations
1 Year Swap-out Warranty
Multiple AV inputs
tough anti-glare glass
55″ 1080p HD LED Screens
100 touch points with projected capacitive technology
Near Seamless Single Display
With a total bezel size of 6mm, these displays are capable of creating a near seamless single display. The uniform bezel around the displays allows you to build video walls of any size.
Portrait or Landscape
Our BLOX Panels can be used in both Portrait and Landscape combinations. This means you can frame content differently and build unique video wall designs.
Bespoke Software Options Available 
Our IMMERSE Software team can create a bespoke interactive experience. We provide the full package.
YOU MAY ALSO BE INTERESTED IN…

Do you need a Bespoke Software Solution?
At Promultis, we can develop bespoke interactive and non-interactive software solutions for the BLOX Video Wall Panels, making your visions into reality.
If you're interested in software for the BLOX Video Wall Panels and would like to have a look at our previous work, visit our IMMERSE page by clicking on the button below.