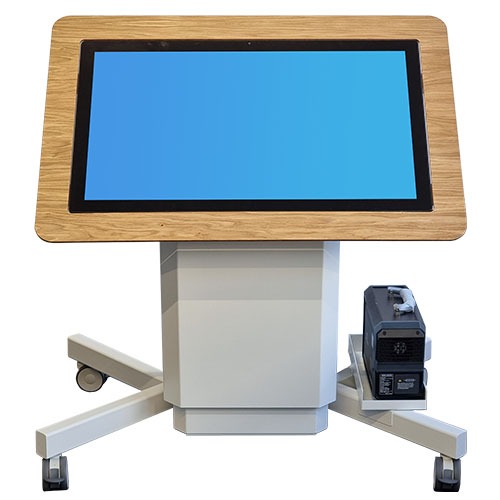 Interactive Tables for care homes
Best selling technology for care homes
interactive
3 year warranty
Mobile & Electronic Height & Tilt Adjust
Optional Windows PC
Battery Optional
Android Apps
Interactive
Our fully interactive screen supports up to 10 touches at any one time, inviting collaboration and multi-user activities.
Electronic Height & Tilt Adjust
Electronic height and tilt adjustment allow the table to be used in a sitting or standing position, use the screen as a table, screen or lectern.
Optional Windows PC
Additional Windows PC gives access to a huge library of interactive multiplayer games, access online resources for staff training. 
Android Apps
A built-in Android OS allows you to run a huge range of apps from sensory apps to brain-training, keeping users engaged and entertained for hours. Access the Google Play Store to add any apps of your choice.
Optional Battery
Do away with the mains lead, removing a tripping hazard and providing complete freedom of moevement. Usable for up to 3 hours between charges.
3 Year Warranty
Our 3 year remote and onsite warranty means that we will strive to solve any issues that may arise, either over the phone or with an engineer visit if required.
The strict social measures in place in our current climate has forced many care homes to close their doors to companies that would have previously run event days and activities for the residents.
The multi-purpose nature of our tables enables it to be used for a wide variety of activities, keeping Residents entertained with cognitive development apps, visual and audio sensory apps, or reminiscing by watching old films or listening to their favorite songs. Alternatively, plug in a webcam and host video calls between your Residents and their loved ones no matter where they are to keep the family connected.
In addition to all the services our tables provide the residents, you can also use it for staff training. Making use of the Interactive Screen to flick through documents, run through videos, or even present to the team!
Research strongly suggests that regular mental stimulation can aid in reducing the chances of Alzheimer's or Dementia. Our collection of brain-training and easy to use sensory apps can prove invaluable to residents already struggling with these conditions.
Here are just a few of the locations we have installed our tables:
Bluebell Care Home, Portsmouth
Blue Water Care Home, Portsmouth
Shangri-La Care Home, Lee-on-the-Solent
The Old School House Care Home, Plymouth
Princess of Wales Community Hospital, Worcestershire
YOU MAY ALSO BE INTERESTED IN…

Do you need a Bespoke Software Solution?
At Promultis, we can develop bespoke interactive and non-interactive software solutions for the Varitilt Range, making your visions into reality.
If you would like to have a look at our previous work, visit our Immerse website by clicking on the button below.