Promultis Uno Elite Table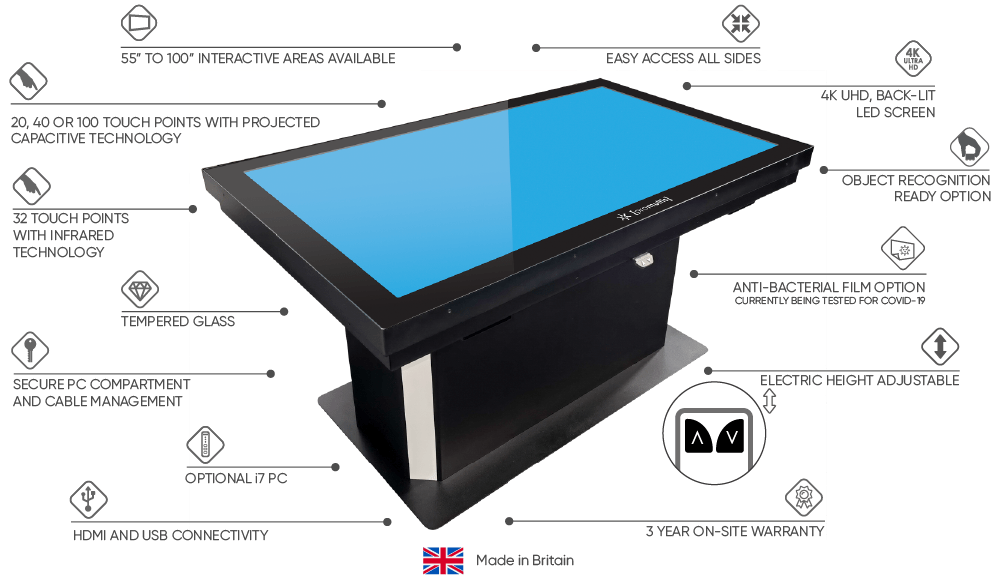 The Uno Elite comes equipped with all of it's baby brothers features with the added ability to electronically adjust its height via remote or by buttons on the table.
Choose the best screen size for you, ranging from 55" to a massive 86" using 4k panels as standard.
These tables have found great use in the past at exhibitions, training centers, and in marketing suites where their eye-catching design and expansive screens are perfect for collaborative interaction with clients and customers.
 The powerful driving PC is safely stored in the secure central column. 
55" to 86" Interactive Area
The 55″ to 86″ interactive area invites natural collaboration and teamwork. With up to 100 touch points at any one time, a multi-user experience has never been easier to achieve.
4k UHD LED SCREEN
The 4K UHD back-lit LED screen delivers a bright, crisp, and responsive viewing experience
Easy Access All Sides
The free-standing open design allows you to use the table from any direction, making this table perfect for marketing allowing you to present documents and videos to Clients and Customers.
3 year warranty
Our 3 year remote and onsite warranty means that we will strive to solve any issues that may arise, either over the phone or with an engineer visit if required.
Object Recognition Ready
Create a more hands-on experience for users by triggering events on-screen by placing real, physical items on the screen surface. 
Secure Storage
The PC and cabling is safely stored in the lockable central column, providing a sleek, cable-free finish.
HDMI Connectivity
With multiple HDMI connections, use the supplied PC or connect your own machine to drive the unit.
Electric Height Adjustable
Raise or lower the table via remote or discreet buttons giving great accessibility to all users.