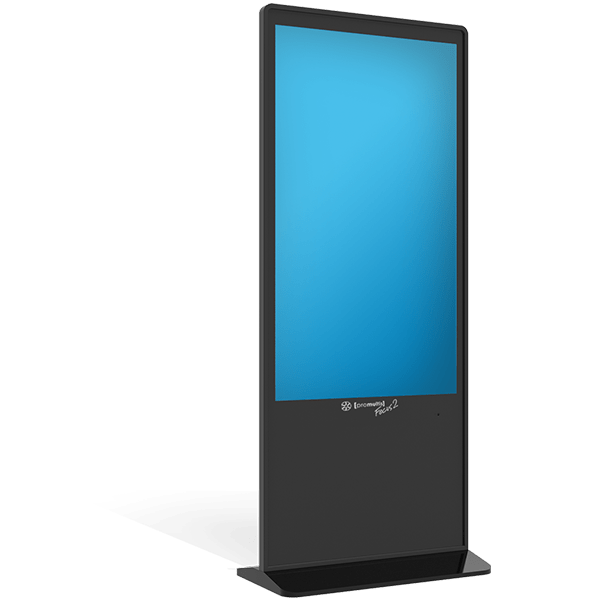 The Totem Focus 2 is the newest edition to the interactive touchscreen Totem family, packing an impressive 55″ 4K UHD touchscreen display into our most slimline chassis yet
10 IR touch points
tempered glass
internal speaker
secure with key only access
hDMI and USB connectivity
55″, 4K UHD, back-lit LED screen
poS and card reader available
android oS & optional i7 oPS pC within chassis
3 year on-site warranty
4K UHD LED Screen
The 4K UHD back-lit LED screen delivers a bright, crisp, and responsive viewing experience.
Android OS & optional PC integration
Within the Totem is an Android 8.0 OS and an optional OPS PC with the latest version of Windows 10.
3 Year Warranty
Our 3 year remote and onsite warranty means that we will strive to solve any issues that may arise, either over the phone or with an engineer visit if required..
Key Only Access
The hardware housing at the back of the Totem can only be accessed via a key, making all components secure.
PoS & Card Reader Available
As an optional extra we can add Point of Sale and/or card reader to the Totem to facilitate card payments.
HDMI Connectivity
With multiple HDMI connections, use the supplied PC or connect your own machine to drive the unit
The sleek and stylish design of the Focus 2 gives it a modern look that is sure to grab the attention of all.
Built with cutting-edge multitouch technology, the Focus 2 has up to 10 IR touch points, allowing for an immersive multi-user experience, making it the perfect option for many situations.
Do you need an interactive experience to accompany your Totem Focus 2? Our in-house software team can create bespoke software experiences for you, whatever your requirements may be. If you would like to view previous experiences that we have built for clients, then head over to our Promultis Immerse website now.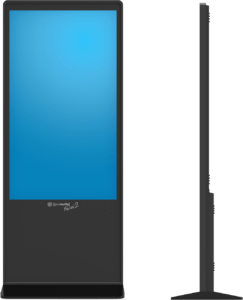 HOW CAN THE TOTEM FOCUS 2 HELP YOU?
Retail & Digital Signage
The Focus 2 is perfect to display marketing content for your store. Customers can use the Totem to find out more information about products or current promotions. The Totem Focus 2 can also act as a self-service POS system with the option to add a card reader to allow card payments.
Libraries, Hotels & Museums
In Libraries, the Focus 2 can be used as a digital database, allowing visitors to find the perfect book to read. The user could also take short surveys for books to be recommended to them. Hotels can use the Focus 2 to display information such as check in and out times, entertainment schedules or things to do in the surrounding area. Museums can use the Totem Focus 2 to display information about exhibits and how to get to specific areas.
Exhibitions & Events
The Focus 2 can be used by both companies with booths, as well as the hosts. For example, companies can use the Focus 2 to allow a visitor to browse through a variety of marketing and informational materials whilst hosts can use the Totem to display useful information to visitors, such as schedules for activities or maps to help the visitor navigate through the event.
Restaurants & Bars
An interactive touchscreen totem can be used in a variety of ways at Restaurants and Bars, such as displaying food and drink menus to customers as well as important nutritional and allergen information. The Focus 2 can also be used as a self-service ordering point, which will improve efficiency as staff won't need to spend as much time taking orders and manning tills, especially during busy periods.
Transport
The Focus 2 is great for the Transport Sector. In particular, the Totem can display timetables, give terminal/platform information, self check-in and the ability to purchase tickets. This gives users a one stop shop for all the information that they will need in order to have pleasant experience.
YOU MAY ALSO BE INTERESTED IN…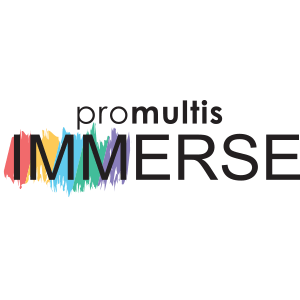 Do you need a Bespoke Software Solution?
At Promultis, we can develop bespoke interactive and non-interactive software solutions for the Totem Focus 2, making your visions into reality.
If you would like to have a look at our previous work, visit our Immerse website by clicking on the button below.