Create the perfect large scale interactive viewing environment with a Promultis Multi-Touch Interactive Video Wall!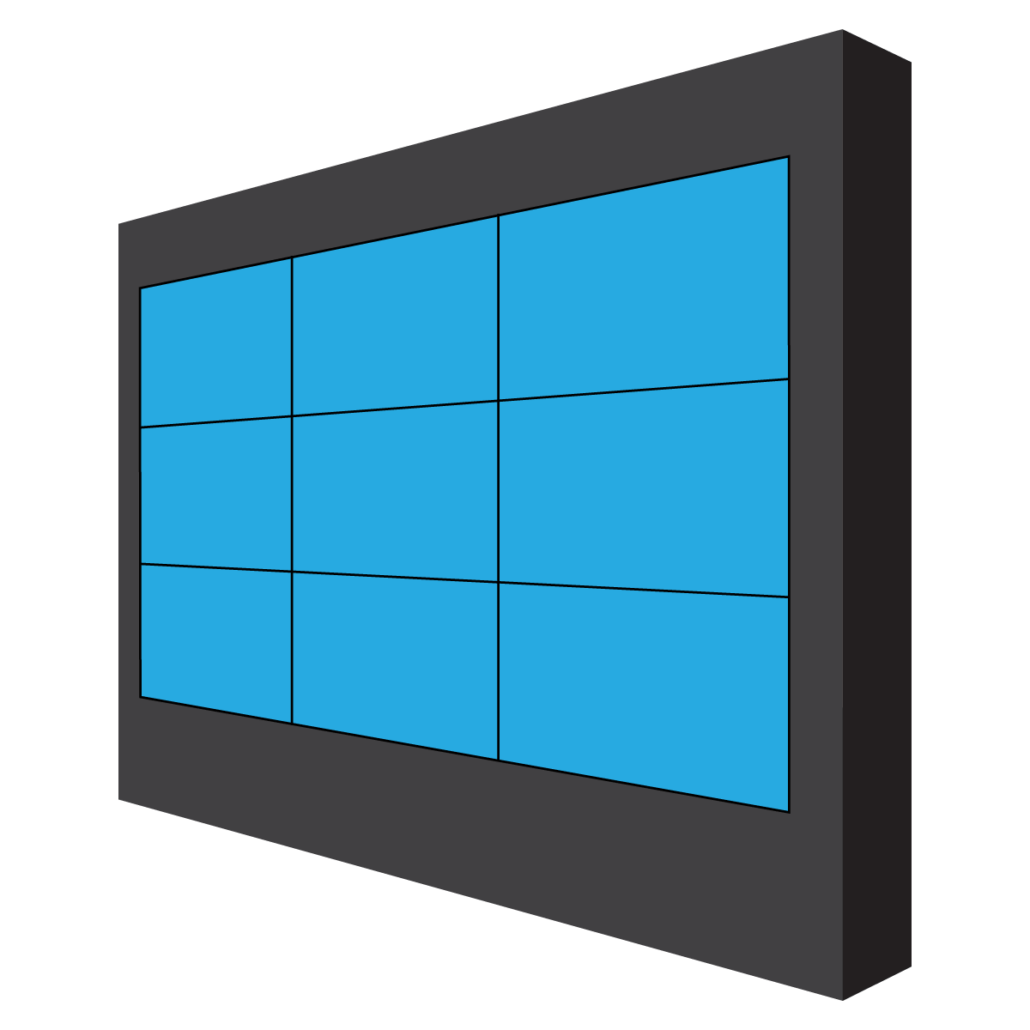 Interactive And Non Interactive Video Walls
Promultis are one of the markets leading video wall experts. Whether you want to Buy or Rent, we have the knowledge and tools to make your experience swift and easy
3 year on-site warranty as standard
Hardware Solutions including object recognition, motion sensors, rFID, QR codes and voice recognition
Webcam and Sensors for analytics and demographics
bespoke software options available
Near Seamless Single Display
With a total bezel size of 3.5mm, these displays are capable of creating a near-seamless single display. The uniform bezel around the displays allows you to build video walls of any size.
Multiple AV Inputs
We can build Video Walls capable of supporting a wide range of Audio and Video inputs, such as HDMI, DisplayPort, DVI, and VGA. The input can be changed at the push of a button, making our walls perfect for Presentations.
Interactive & Non-Interactive Solutions
We offer both Interactive and Non-Interactive solutions depending on your intended use. By tailoring the solution to your exact needs you save money and get the best possible end product.
Infrared & Projected Capacitive Solutions
We build our Touch Walls using either Infrared Touch or Projected Capacitive Touch, this flexibility means your final solution is cost-effective and tailored to your exact requirements.
Curved Videowalls
We have experience creating Curved Video Walls too! We created the worlds first Curved Projected Capacitive Touch Video Wall!
Rent for your event
Promultis hold Interactive and Non-Interactive Video Walls in rental stock ready to supply to your exhibition or event anywhere in the world. We offer a full delivery and installation service, please contact us for more information and pricing.
Wall mount or Free Standing
Our bespoke design free standing video wall framing system is industry renowned for its easy maintenance access and mobility
Portrait or Landscape
Our Touch Wall Panels can be used in both Portrait and Landscape combinations. This means you can frame content differently and build unique video wall designs.
Bespoke Software Options Available
Our Software team can create a Bespoke Interactive Experience. We provide the full package.
Up to 8k resolution

Our Video Walls are capable of displaying resolutions up to 8K. We also provide a server capable of running your software seamlessly.
There are many options when choosing an Interactive Video Wall Solution, from the touch technology you wish to utilize, to the size you require, perhaps you would like us to create a completely bespoke software solution to go with the wall? Maybe you wish to have a curved wall? The possibilities really are endless!
every videowall is unique. location may differ, size may change and users may alter.

That's why here at Promultis, we offer a completely bespoke 1 to 1 service with all of our video walls regardless of the size. We are committed to give all of our customers the opportunity to tailor and refine every aspect of their video wall and software to ensure the most cost effective, high impact end product is achieved.
In a lot of past projects, clients specify their wall to be free standing.

Our extensive experience overcoming the various challenges associated to this led us to design our very own free-standing solution! Our bespoke design free standing video wall framing system is industry renowned for its easy maintenance access and mobility, a consideration that can often be overlooked!
YOU MAY ALSO BE INTERESTED IN…

Do you need a Bespoke Software Solution?
At Promultis, we can develop bespoke interactive and non-interactive software solutions for the Varitilt Standard Plus, making your visions into reality.
If you would like to have a look at our previous work, visit our Immerse website by clicking on the button below.