Slim, stylish and versatile multitouch screen
Buy or Rent Promultis multitouch screens and interactive solutions
02392 512 794
Int. +44 (0) 2392 512 794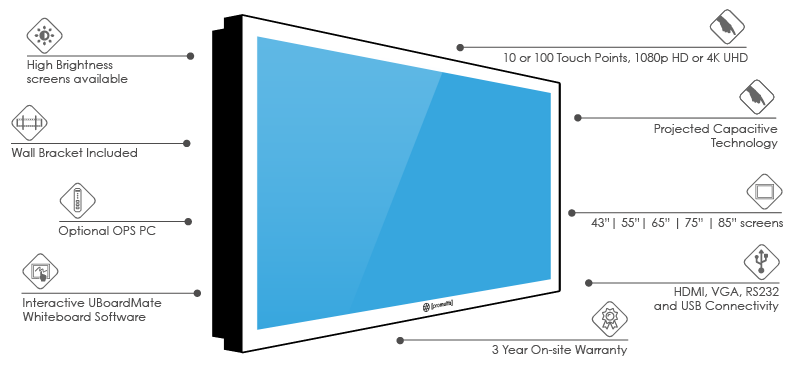 Combining cutting edge multitouch technology within a slim LED backlit HD LCD screen and universal mount, the Promultis range of large format touch displays are robust and reliable screens within a sturdy housing structure and tempered glass suitable for withstanding the rigours of use in public locations. Designed for maximum flexibility the Promultis screen is suitable for any orientation, from wall mounted, through to a table or portable stand.

With professional high grade components, our commercial grade screens are Full HD 1080p resolution and up to 600 Nit high brightness as standard.
Projective capacitive technology enables touch points to be sensed through a protective layer in front of a display, allowing touch monitors to be installed behind store windows or toughened glass creating a completely level, bezel-less surface.
Ideal for education, retail, exhibitions or events, entertainment, hospitality
| | | | | | |
| --- | --- | --- | --- | --- | --- |
| | Width | Height | Depth | Screen Visible Area | Weight |
| 43″ | 1067mm | 656mm | 107mm | 930 x 528mm | 40kg |
| 55″ | 1346mm | 817mm | 107mm | 1208 x 679mm | 59kg |
| 65″ | 1576mm | 951mm | 107mm | 1427 x 802mm | 70.5kg |
| 75″ | 1797mm | 1075mm | 107mm | 1649 x 927mm | 87kg |
| 85″ | 2037mm | 1217mm | 137mm | 1877 x 1057mm | 91kg |
The components from LCD panel, controller, and back-lighting have all been selected to professional and commercial quality standards to produce a screen display of rich colours and exceptional definition.
The screens are available with both Infrared and Projected Capacitive touch technologies to suit the application. Our industry leading infrared technology is the fastest in response and most stable in operation being unaffected by direct sunlight to ensure the best touch experience.
We have developed an extended range of screen specifications for the screen to include the latest 4k ultra high definition and for today's glass buildings and structures High Brightness screens that can be up to 2,500 c/m2 compared to the standard 350 c/m2. The only way to combat high ambient light conditions is to have high brightness emanating from the touch screen. Anti-glare only dulls the picture and adds nothing to the visibility.
You may also be interested in…
Promultis Uno Table
The Ultimate Collaborative Surface Ideal for Museums, Media rooms, hospitality suites…