Large electric height adjustable collaborative table with easy access from all sides.
Ideal for Conference Rooms, Hospitality Suites, Training Areas and Trade Shows.
02392 512 794
Int. +44 (0) 2392 512 794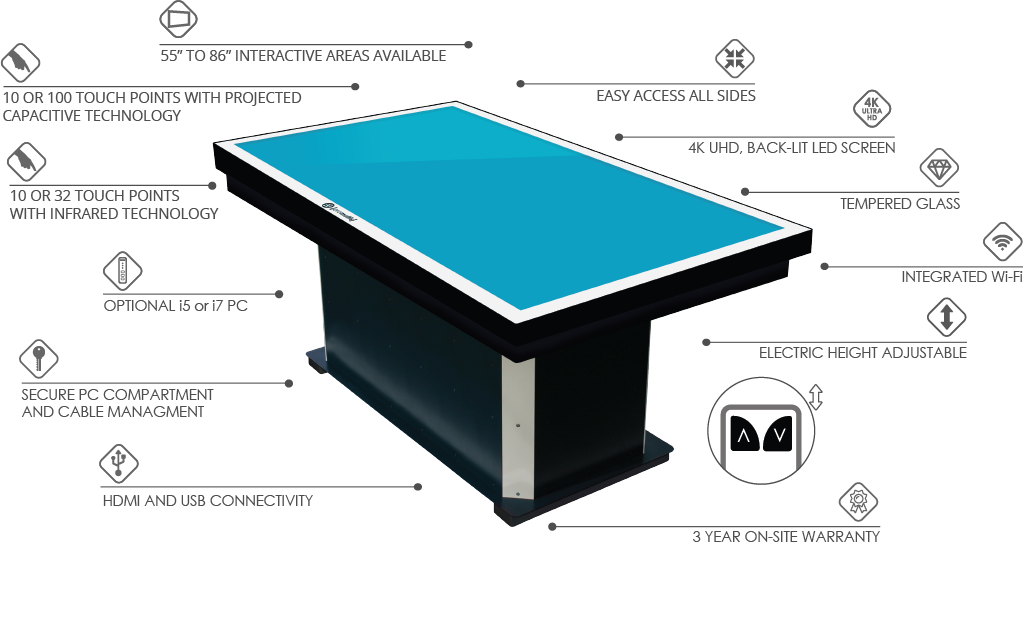 The Promultis Uno Elite is an electric height adjustable, collaborative, interactive table ideal for:
Conference Rooms
Hospitality Suites
Training Areas
Trade Shows
Museum & Galleries
Multi User, collaborative table with easy access from all sides
10 or 100 Touch Points with Projected Capacitive Technology
Lockable PC cage in a single central column
Integrated usb connections
65" to 85" screens available
i5 or i7 PC options
Large surface area for multi-users
3 year repair or replace warranty
Interactive software options available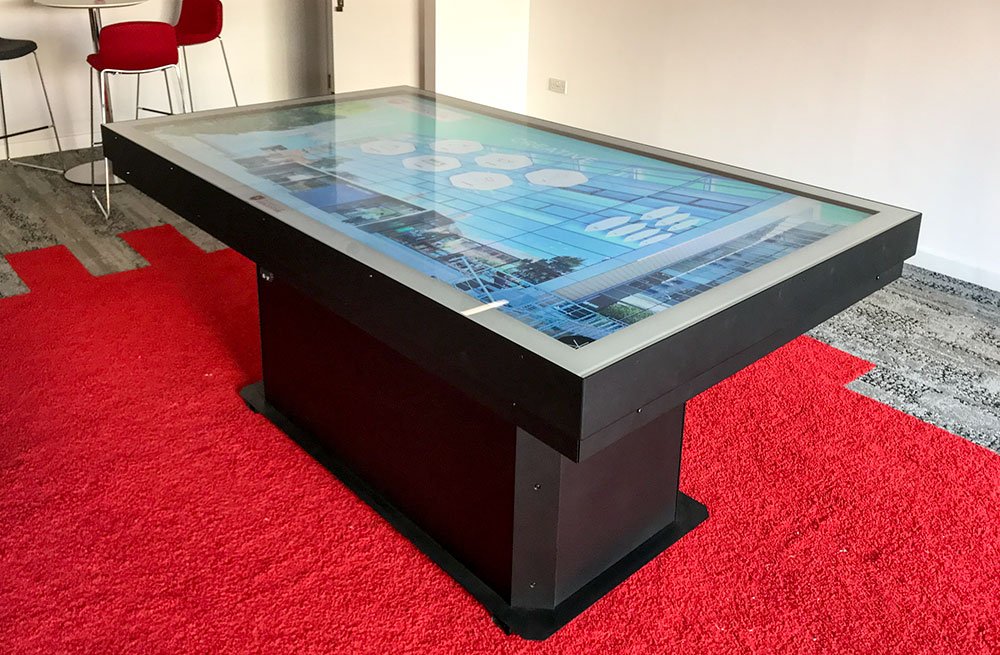 SPECIFICATION
CHASSIS FEATURES

PROJECTED CAPACITIVE TECHNOLOGY

Material
Metal & Aluminium
Detection method
Projected Capacitive
Glass
Tempered Glass
Input method
Finger and gloved finger
Lockable Cabinet
Cable Mangement and PC shelf
Number of simultaneous touches
100
Base
Heavy Duty Feet
Noise Shielding
DISPLAX XTR-ShieldTM Plus, a proprietary noise filtering technology

PANEL

Aspect ratio
16:9
Screen Options
65" | 75" | 84"
Controller
Printed circuit board with mini USB connector
Panel resolution
4K UHD 3840 x 2160
Adhesive
Permanent
Native resolution
3840 x 2160 60Hz
Substrate
Float Glass, Gorilla Glass
Brightness (nits)
650
Interface
HID
Contrast ratio
1500 to 1
OS with multitouch
Windows 8.1, 8, 7*: Ubuntu 12.04**; Android**; Chrome OS***
Response time
6ms
OS with single touch
Mac OS X Yosemite
Aspect ratio
16:9
OS with mouse emulation
Spinetix Media Player HMP 200
Viewing angle
horizontal / vertical 178° / 178°
Data connectivity
USB 2.0
Pixel pitch
0.744 (mm)
Touch accuracy
1mm absolute
LCD Illumination
Backlit LED
Sensor weight
260 g
Speakers
10W x2
Controller weight
60 g

ENVIRONMENT

PERFORMANCE

Operating temperature
50°F to 104°F (10°C to 40°C)
Substrate thickness
Up to 6mm
Operating Humidity
10% to 80%, non-condensing
Touch response
5 milliseconds
Storage Temperature
-4°F to 113°F (-20°C to 45°C)
Calibration
Available using control panel: no drift
Storage Humidity
5% to 95%, non-condensing

POWER CONSUMPTION

SHIPPED WITH

Average power consumption (P)
USB powered @ 5V
Cables
Power | USB | HDMI
Peak consumption: 410 mA
Remote control
Included
Operation consumption: 370mA
Screen freeze function
On remote control

RELIABILITY

User manual
Included
Operating temperature range
-20°C to 70°C

WARRANTY

Operating humidity range
0% to 96%
3 year on-site warranty as standard
Life time expectancy
Unlimited
Extended warranties and SLA's available at an additional cost
Controller life time expectancy
1 million hours
* Home Premium SP1; Professional SP1 Ultimate x64 SP1 ** Depending on kernel and multitouch support. *** 39.0.2171.85(64 bit)
Promultis Interactive and Mobile Tables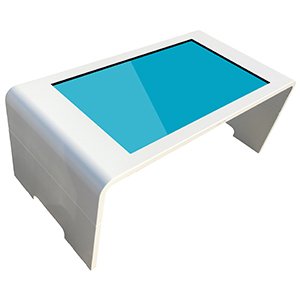 Promultis Table
The Promultis Table is a complete multi touch, collaborative interactive surface solution that
integrates the latest touch screen technology into a table.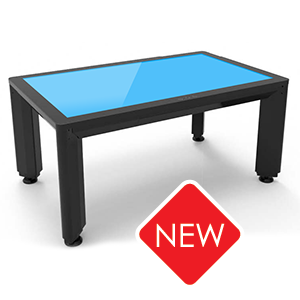 Promultis Tetra Elite Table
The Promultis Tetra Elite Touch Table is a sturdy, multi touch, height adjustable surface solution incorporating projected capacitive touch technology.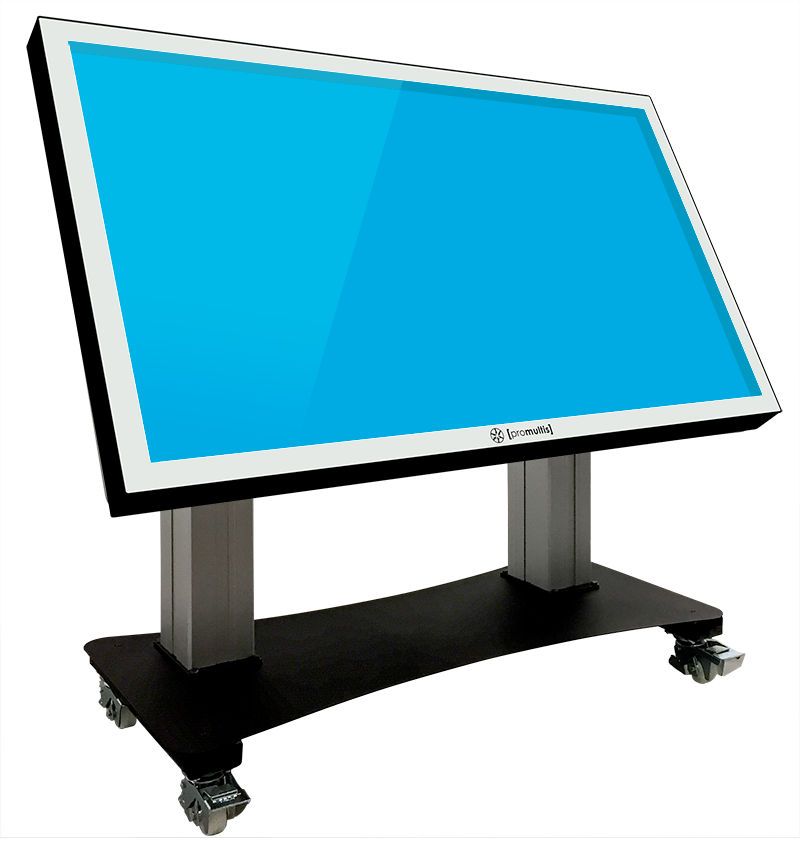 Promultis Vari Tilt Elite
Ultimate portable, electric tilt and height adjustable, multitouch mobile table solution perfect for Promultis 65" to 84" touch screens.