Promultis Vista Outdoor Screen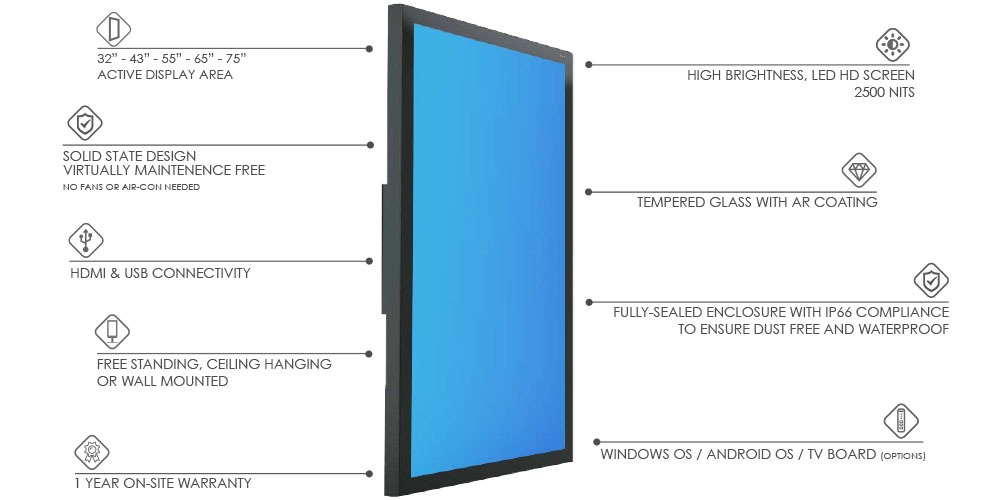 The free standing, ceiling or wall mounted, 
Promultis
 Vista Outdoor Digital Signage has a weather-proof IP66 rated steel housing to ensure dust and water- free enclosure along with laminated tempered glass.
The single sided HD LED display is capable of up to 2500 NITS at 37″, 43″, 55″ and 75″. The 32″ HD screen can show up to 2000 NITS. This ensures content is visible in all situations and conditions. 
The interactive option has 10 touch points with Projected Capacitive Technology. Additional options include Camera, NFC, RFID, Wifi, 4G and Bluetooth.
The unit can be driven by an i7 OPS running Windows 10, or the integrated Android OS can be used to run lightweight programs. Alternatively, use your own machine as the player.
These Outdoor Digital Signage Screens are perfect for use in high streets and retail spaces where your message can be shown clearly and dynamically.
Weather-proof IP rated steel enclosure
Our Outdoor Totems are protected against wind, rain and snow with secure rubber sealing and a strong steel frame.
temperature & humidity control system
The built-in temperature control system ensures the screen remains operational in both hot and cold weather.
Maintenance free
The fully sealed unit with no fans, vents or filters means the unit is virtually maintenance free.
1 year on-site warranty
Our 1 year on-site warranty means that we will strive to solve any issues that may arise, either over the phone or with an engineer visit if required.
Up to 2500 NITS HD Screen
Choose from a HD LED Screen available in 32″, 37″, 43″, 55″, and 75″ . The up to 2500 NITS high brightness panel ensures visibility no matter your choice.*
*32″ Screen only available in 2000 NITS
POWERED BY OPS, ANDROID, OR YOUR OWN MACHINE
Use an internal small form factor OPS running the latest Windows 10 to deliver content to the screen. Or use the built in Android to run simple, lightweight programs.
Alternativly, you can supply your own machines to run content
optional extra features
Options include 10 Touch Interactivity, Camera, NFC, RFID, Wifi, 4G and Bluetooth.